Top 5 Free Hosting Control Panels
ISPConfig – Top Multilingual Panel With Statistics
Ajenti – Top Customizable Panel With Speed, Performance
CentOS Web Panel – Easy Setup and Integration with CentOS/CloudLinux
Virtualmin – Top Virtual Panel With Authentications, Mobile UI
Webmin – Top Web Panel With Modules, Maximum Security
What is a web hosting control Panel?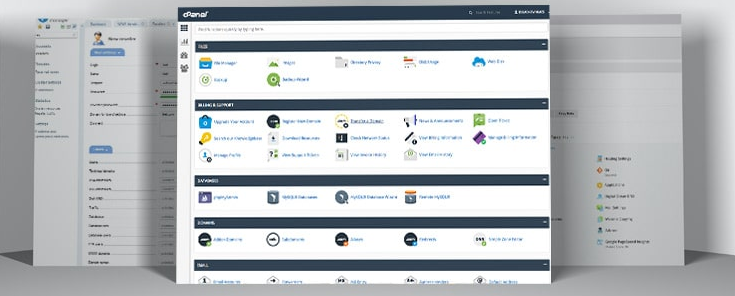 You might be a novice who finds the term "webhosting control panel" confusing. A web control panel is a software interface or web program that web administrators use to manage domains, email addresses, databases, files, file transfer protocols, and other functions. Sometimes it is called a web panel, web panel, control panel, or admin panel.
Which web control panel should you use?
There are many factors that will influence your choice of the right web control panel.
a) Your budget: Some panels for web hosting control are free, while others are paid. This list shows you a selection of panels that you can use for free. You have two options depending on your budget: you can choose one of the ones listed above, or you can opt for a paid version if you require more functionality. It is important to remember that the free ones will likely be powerful enough and efficient enough for your needs.
b) Preferred Operating Systems: Which OS are you thinking about? You can choose from any of these options if you want to use Linux packages. Other panels don't support Linux packages so you won't need them.
c) Features: Several attributes are shared by web hosting control panels. Each panel has its own unique characteristics, however.
3. What is the best Windows web hosting control panel?
Each panel's developers decide which operating system or systems their product will support. ZPanel is the best Windows control panel. You can easily use it to configure systems, domains, and servers — just like the listed control servers. It is considered an enterprise control panel due to some anomalies that are not apparent with this panel. These were previously discussed.
Webmin is still not compatible with ZPanel, even though it supports Windows VPS in recent versions. ZPanel, for instance, supports IPv6 which many don't have, and allows multiple users to run on one server. The feature comparison table is a guide for this question.
4. What is an open-source web hosting control panel?
An open-source web hosting control panel is basically a source code that's open to the public or made freely available for modification. Most software applications are subject to a government-imposed license. This concept is the basis for the terms and conditions of usage.
Open source control panels, on the other hand, are not subject to the law and are therefore free from any restrictions. The panel can be used by anyone, from anywhere, with any purpose. Do you see an opportunity?
5. 5. Are admin panels appropriate for complex web applications such as e-commerce shops?
Yes! Yes! E-commerce projects are more dependent on an admin panel than any other website. They are also known as administration panels or templates in the web and e-commerce worlds.
To top it all, many of the available options have responsive layouts and are compatible with Bootstrap. As web-specific templates, names like Metronic and Melon, ToDo, and FlatKit are very popular.
Conclusion
The importance of web hosting control panels for the management of your website and web apps can be seen in the above. We can therefore confidently pick the one that appeals to us. Let's check them again to emphasize their uniqueness.
ISPConfig can be used in many languages and provides statistics via Webalizer or AWStats. Ajenti's Python extensibility makes it unique, along with its modular, lightweight architecture and a wealth of plugins.
ZPanel, on the other hand, offers faster remote access. Higher performance and almost all OS support…unlike other OS. Virtualmin is unique because of its flexibility in managing virtual servers and integration with LDAP/2-factor. Virtualmin is a similar tool, but Webmin can be used to manage web servers.
We believe you have the freedom to choose, so we encourage you to pick the one that is best for you. We are here to help you if you have trouble deciding. Drop us a comment and we'll respond as fast as a snail.
You can also leave a comment if this is interesting or informative enough. Do you want to read it again? Save it and share it.